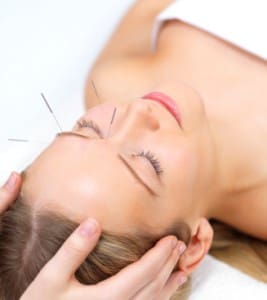 What is Cosmetic Acupuncture?
Cosmetic Acupuncture, also known as Facial Rejuvenation, is a natural non-surgical alternative to western cosmetic surgery. Drawn from ancient texts of Chinese medicine, Cosmetic Acupuncture is a specialist holistic, natural and comprehensive program designed to restore, rejuvenate and relax.
Small, pain-free acupuncture needles are placed in a precise configuration just under the skin to stimulate the production of collagen and elastin.
Benefits of Cosmetic Acupuncture
Promotes blood and lymph circulation – increased circulation dilates the peripheral blood vessels for better distribution of oxygen and nutrients as well as cellular regeneration.
Rehydrates the skin's external layers through stimulation of the secretion of sweat and sebaceous glands, which encourages the regeneration of healthy skin cells.
Helps exfoliation – aids the proliferation of new skin cells, increasing nutrition to the skin's surface, which improves skin's quality and promotes a healthy glow.
Allows healthy "breathing" of the skin – increasing the skin's ability to protect against infections and clogged pores.
Increases oxygen consumption of the skin's external layer speeding up the release of carbon dioxide and nitrogen at the cellular level, helping to keep skin deeply cleaned.
Stimulates the production of elastin and four collagen proteins in the skin to reduce and soften wrinkles.
Reduces and relaxes nerve and muscle tension improving the integrity of the skin resulting in improved overall facial appearance.
What can you expect?
The results of cosmetic acupuncture reflect not only a change in external appearance, but also an improvement in total body wellness. Specifically, you may notice:
More radiant skin
Reduction of fine lines
Smoothing of deep lines
Increased collagen production
Fading of age spots
More toned muscles
Reduction of sagginess
Lifting of droopy eyelids
Minimization of double chins
Enhanced overall appearance and health
Additionally, acupuncture is a holistic procedure; therefore it promotes better digestion and sleep cycles and emotional/ hormonal balance.
Success of Cosmetic Acupuncture
A 1996 report in the International Journal of Clinical Acupuncture reported that among 300 cases treated with facial acupuncture, 90% had marked effect with one course of treatment. Some of these effects included: improved elasticity of the facial muscles and levelling of wrinkles, a ruddier complexion and overall rejuvenation not confined to the face.
Cosmetic Acupuncture has become the "sought after" anti-aging program amongst celebrities.  Those reported to be fans of Cosmetic Acupuncture include Madonna, Angelina Jolie, Gwyneth Paltrow, Claudia Schiffer and Prince William.
Click for more information on Prices.
Or call Niall on 087 2632732 for an appointment or free consultation.